I'm super stoked to be the one to bring you coverage of this new EP today because it is going to tear your head off and leave you shaking in the wind. And that's just for starters.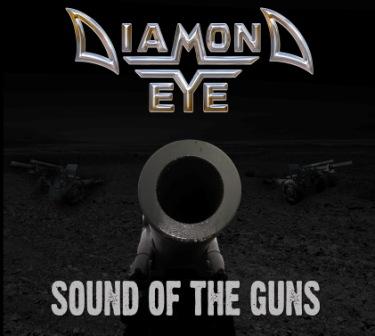 Diamond Eye's debut EP, Sound of the Guns
Australia's Diamond Eye have been a band on my radar since I came across them in late 2009. Since then, I've been keeping up with every new release of the band, and every big event they've taken down in their path. Back in late '09, I got my hands on a copy of a rough demo that Diamond Eye used to gain some attention in the Perth heavy metal scene. To give you an idea of how rough this demo was, all it said on the front was Diamond Eye and Demo. But rough doesn't mean bad, and the minute I threw that demo on I was instantly hit by tracks of a caliber that blew my mind. Rough, yes, but holding so much promise, and as I listened to tracks like "Waiting for Me," "Machine," and "Holding On," all I could imagine was what it must have felt like listening to a rough Metallica or Iron Maiden demo before they took off. Secretly, I hoped that those three songs would see new rerecordings as Diamond Eye gained more clout (perhaps not so secretly, as I told lead guitarist Greg Fawcett that "Waiting for Me" was a sparkling diamond in the rough).
Last year saw the release of Diamond Eye's debut live DVD/album
Alive and Kicking
which I also happened to be able to get my hands on. Though the album showed extreme promise with tracks like "Atlantis" and a live recording of "Machine," one track stood above the others as the song that could not be ignored: "Sound of the Guns."
Diamond Eye; From left: Geoff Keating, Will Kelly, Greg Fawcett, and Chase Cameron
Now, finally, Diamond Eye have returned with their newest studio effort, the EP so rightly titled
Sound of the Guns
. Yes, the title track is on here, and yes the studio recording is more than I could have dreamed of. Greg Fawcett's lead guitar burns with the rage and determination of an axe on a mission, and as his riffs pepper the rhythmic drumbeats of Geoff Keating and bass-blasts of Chase Cameron, Diamond Eye have reached a new level altogether. From the start, "Sound of the Guns" sounds like a Metallica-influenced song with the bluff and bluster of a Maiden-lead charge. Will Kelly's vocals have improved even more since
Alive and Kicking
, and now his octave vocal wails are high above Keating's drums as Fawcett pick-slides into an altogether new rhythm. The best part about this song is that is changes halfway through, and in one song there are two great parts mashed together to provide a shrill nitro-explosion to your brain. As Kelly leads out on his vocal highs, the rhythm section follows suit as Fawcett solos until the very last seconds of this song. There is no way this track could have been done any better, and with a single like this, Diamond Eye cement their image as one of Perth's hardest rocking bands.
Sound of the Guns
also sees rerecorded versions of "Waiting for Me" (a fucking brilliant rerecording by the way, filled with more balls and gusto than most groups can muster on a whole album), "Atlantis," and "Machine," as well as a new track, "Closer to the Sun." The rerecorded version of "Waiting for Me" has all the balls of the demo amped up to 11 (ha!) with the same sick guitar solo that melted my face off the first time I listened to the demo. This song has only gotten better, and is a completely and undeniably brilliant track. "Atlantis" and "Machine" are more robust than they were previously, and with the new "Closer to the Sun" to round it out,
Sound of the Guns
is an explosive triumph for Diamond Eye. This EP has to be at the top of your must-hear list. No exceptions.